Office 2019 is a version of the impressive productivity suite by Microsoft. This is available as a one-time purchase and aims to maximize the performance of your business. It comes with advanced capabilities to help you improve your speed and accuracy while doing tasks. It comes with a lot of enhancements when compared to its predecessors. You can expect new Excel functions, translation and editing tools, inking tools, motion graphics, ease of use, and much more. Microsoft Office 2019 price varies depending on the edition. MS Office offers various editions that are targeted at different types of users depending on their needs.
Office 2019 Editions
Microsoft Office 2019 is available in three main editions:
●Office 2019 Home and Student
Office 2019 Home and Student editioncome with Word, Excel, PowerPoint, and OneNote. It is ideal for home users and students to work on documents, spreadsheets, presentations, and take notes. Whether it's managing personal finances, writing assignments, or creating engaging presentations, this edition got it all covered for you!
●Office 2019 Home and Business
The Home and Business edition is an ideal option for families and small businesses that only require basic functions. It includes Word, Excel, PowerPoint, OneNote, and Outlook. It enables you to work on presentations, documents, and spreadsheets while also helping you manage email efficiently. Get the Microsoft Office 2019 Home and Business-For Mac/Windows - Download.
●Office 2019 Professional
The Professional edition is suitable to meet the needs of growing businesses and help them enhance productivity. This edition comprises Word, Excel, PowerPoint, OneNote, Outlook, Access, and Publisher. It is ideal for organizations that require advanced tools for database management and publishing.
What are the Fresh Features in Office 2019?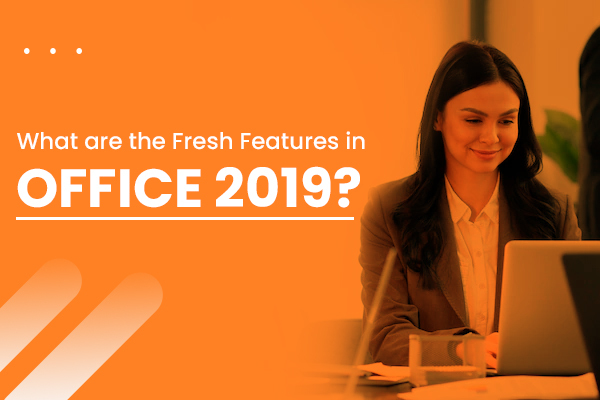 Let us look at the new and exciting features that are included in Office 2019.
Translator Tool
Word, Excel, and PowerPoint come with a new Translator feature that can be accessed from the Review tab. With this tool, you can translate your entire document or a part of the text. It can be a highly beneficial tool that shrinks down the language barrier for many users.
Scalable Vector Graphics
Office 2019 enables Scalable Vector Graphics (SVG) to be added to Word, Excel, and PowerPoint. These graphics can be modified with any change in their quality and can be inserted easily from the Insert tab. These icons can add a unique and fancy touch to your documents and presentations without much effort.
LaTeX Equations in Word
Word now supports LaTeX syntax that can help you type math effortlessly. This feature can be found in the Design tab. It can also be accessed by pressing 'Alt' and '='on the keyboard.
New Excel Functions
Microsoft Office 2019 Home & Student 79G-05186 and other editions include new and exciting Excel functions that would help in making tasks a lot easier. It includes CONCAT, IFS, MAXIFS, MINIFS, SWITCH, and TEXTJOIN.
●The CONCAT function is a lot similar to the CONCATENATE functions but a lot easier and shorter to type. Apart from cell references, it can also support range references.
●IFS is a simplified function that can help you save from the complicated IF functions.
●The MAXIFS function returns the greatest number in a range that meets certain criteria. MINIFS does the same thing but returns the smallest number.
●SWITCH evaluates one value against a list of values and returns the result that matches first. You can set a default value in case there is no match.
●TEXTJOIN is an advanced function that combines text from various ranges. Each text can be separated by a delimiter specified by you.
PowerPoint
PowerPoint comes with many enhanced and cool features that can help you make presentations that are attractive and engaging. You can also compare the features of Microsoft Office Suite 2021 from here.
●The 2019 version of Office includes a new transition for PowerPoint called Morph. This allows a smooth shift from one slide to the next and helps in creating animations within seconds.
●The new Zoom tool in PowerPoint allows easy navigation between the slides. It enables you to view the thumbnails of all slides on one page. You can jump to any slide by clicking them. This type of navigation offers users flexibility while presenting instead of the typical slide show.
●Office 2021 enables you to use a wireless digital pen to move through the slides in PowerPoint. This feature makes the task of presenting a lot easier for professionals.
You can search Office products with IDs like T5D-03190. Get Office 2019 productsfor your business from SoftwareDeals. We provide exciting deals and offers to help you stay cost-effective while enhancing productivity. Contact our technical experts 24/7 to clear your doubts and queries.