Since the Ignite conference, Microsoft Windows Server 2022 has been in the public preview. The March 2021 conference highlighted Microsoft's new capabilities and features. These refer to enhancements in security, faster network, cloud upgrades, etc. Considering the increase in cyber threats, the brand has made sincere attempts to improve safety. For instance, security improvements help build end-to-end IT infrastructure.
The new Windows Server 2022 comes in three main editions: Essential, Standard, and Data Center. Later one more edition was added- the Azure Datacenter edition. All editions of Windows Server 2022 can install the server core and desktop versions. The desktop version is for remote desktop sessions and is hosted with non-server services and other components.
Besides, being the latest version to date has its benefits. The Windows Server platform is the most secure, reliable, and Azure-compatible server of the 20th century. There are some exciting features of note, and in this article, we'll take a look at them.
Improvements in Networking:

Microsoft has significantly improved networking performance for UDP and TCP. The User Datagram Protocol (UDP) and Transmission Control Protocol (TCP) are two main protocols in all network communication. Let us look at them below:
UDP performance improvements
UDP is becoming a popular protocol that carries increasing network traffic. It is also because of the growing popularity of RTP and custom (UDP) streaming and gaming protocols. The QUIC protocol, constructed on top of UDP, improves UDP's performance over TCP. Also, UDP Segmentation Offload and UDP Receive Side Coalescing to reduce CPU load in Windows Server 2022.
TCP performance improvements
Windows Server 2022 uses TCP HyStart++ and RACK to improve performance. The TCP HyStart++ reduces packet loss during connection startup, and RACK helps shorten re-transmission time. These new features ensure smooth data flow over a network with high speeds. The above UDP and TCP functions are available in both Windows Server 2022 and Windows 11.
Security Enhancements:
Owing to the increase in cyber-attacks, it becomes paramount for businesses to secure their data. A 2021 IBM study says that more than 500+ data breaches worldwide resulted in the cost of $4.24 million. For businesses, it is imperative to mitigate the financial impacts of such data loss. Notably, Windows Server 2022 price is much less than the cost mentioned above. With the right software, you can secure your business from such financial risk. Let us look at the security features that Microsoft has added.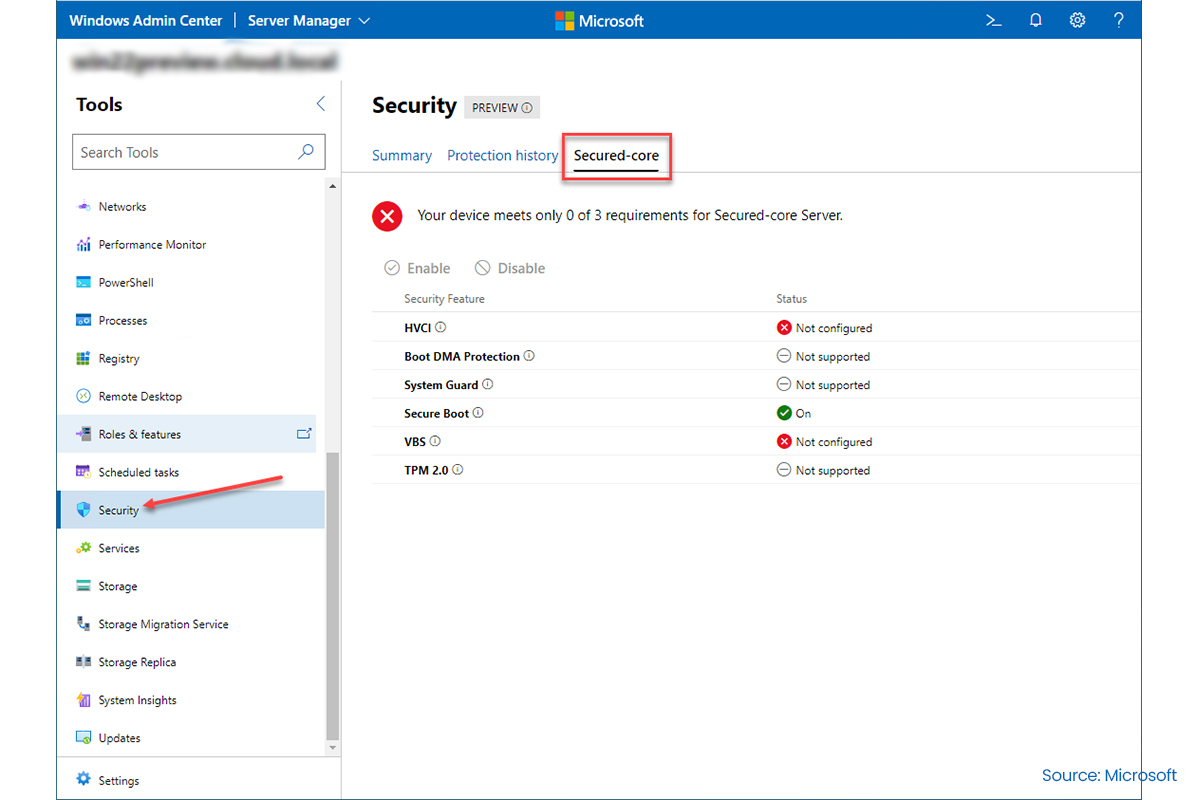 Secured-core server
Secured-core server uses a combination of drivers, firmware, and hardware to protect systems. It safeguards against highly sophisticated attacks using the Trusted Platform Module (TPM) 2.0 chip to securely store data. Or, Bitlocker for the entire volume drive encryption and Virtualization Based Security (VBS) to protect credentials while the system is running. This extra protection is helpful for mission-critical loads and in industries with high data sensitivity.
Hardware root-of-trust
Hardware root-of-trust uses features like BitLocker drive encryption for data security and protection. One of the essential Windows Server 2022 features is Hardware-enforced Stack Protection. This feature enables robust protection against ROP exploitation, and you can not use this feature in the 2019 version.
UEFI and VBS
Secured-core servers support both UEFI secure boot & VBS (virtualization-based security) for enhanced security. VBS protects against an entire class of vulnerabilities used in cryptocurrency mining attacks. At the same time, UEFI protects the servers from malicious rootkits.
Hyper-V virtual switch improvements
In Windows Server 2022, you can find the enhancements in Hyper-V virtual switch with Receive Segment Coalescing. The RSC is updated to coalesce packets and process them as one larger segment. The Upgraded Hyper-V Manager allows running workloads between servers, VM clones, Live Storage Migration, and Action bar, which were not in the 2019 version. Also, the Affinity/AntiAffinity rules help manage which VMs need the same host and which ones should be kept apart.
Windows Server 2022 download allows you to use the above new features. You can ensure your organization's safety by relying on this latest release. Microsoft has let go of many existing components with new & exciting improvements. For instance, the brand has decided to remove iSNS altogether. The Guarded Fabric and Shielded VMs feature improvements have been halted. Although, the support for this feature is still there. Access to WDS images is blocked on Windows 11 and future Windows Server versions.
Hope! You have learned a lot about the Windows Server 2022 version.
Whether you buy Windows Server 2022 or use the existing versions is your choice. But if you need any help switching between the servers, feel free to contact us!